关于
In classic
online Blackjack
, the player places wagers and competes against the dealer, who represents the house.
It is not a Multihand Blackjack game, nor is it a Multiplayer game. Unlike other variants of Blackjack, just 4 decks of cards are used and no side bets are permitted. In classic Blackjack, you compete against the house. In this variant of the game, the dealer and the player are dealt 2 cards, and the goal is to score as close to 21 as possible without exceeding it. If you exceed 21, the hand is lost. Any hand total that beats the dealer's hand will suffice. Cards 2 – 9 assume their face value while King, Queen, Jack, Ace and 10 have a 10-value denomination.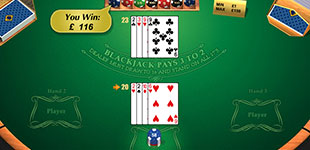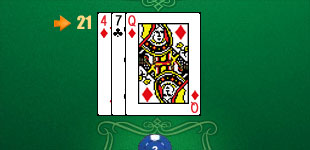 Each of the 4 decks of cards in classic online Blackjack contains 52 cards. The cards are shuffled after each and every round. As in other forms of Blackjack, the Ace can assume a value of 1 or 11. A soft hand has an Ace valued at 11, while a hard hand does not have an Ace, or alternatively has an Ace valued at 1. It is possible to take insurance bets if the player believes that the dealer has an Ace and a 10-value card. You can also
double down, split or push
. In classic Blackjack, winning hands pay out at 1 to 1, it has a payoff of 3 to 2 and insurance pays 2 to 1.